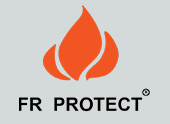 FR EcoPro has been produced with the most modern and innovative flame retardant chemicals, meeting the most stringent requirements on environmental standards.
Low formaldehyde content, regularly controlled.
Neutral smell.
Oeko-Tex 100 & REACH certified.
Soft handle.
Exceptional colour quality.
Professional in-house testing and quality assurance of each production.
Environmental protection and wearer comfort are essential values in our fabrics.