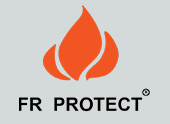 Inherent lightweight Aramid blends with optimal protection and comfort.
FR Inherent - protection built into the fibres and will never wash out.
Lightweight protection
Excellent Manikin flash-test
Protection in high temperature (to 260°C)
Strong and durable
Formaldehyde level not detectable
Oeko-tex 100 and REACH certified
Professional in-house testing and quality assurance of each production
Aramid fibres are fabricated, high-performance fibres with a unique combination of characteristics, including high strength and abrasion properties and with a high melting point.