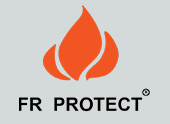 FR Discovery - Modacrylic is a new generation of flame retardant protection using inherent FR fibres, specially selected for their innovative properties.
FR Inherent - protection built into the fibers
Eco-friendly - no pollution
High ATPV
Soft and comfertable
Lightweight protection
EN ISO 20471 - high visibility
Oeko-Tex 100 & REACH certified.
Formaldehyde level not detectable
Professional in-house testing and quality assurance of each production.
FR Discovery - Modacrylic features the latest product developments in technology, utilizing the newest innovation in fibres and finishing.